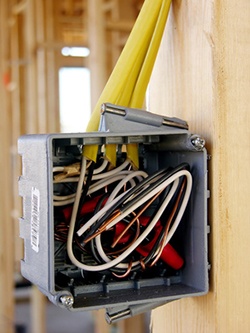 Not too very long ago, the majority of newly constructed homes and buildings were wired with little more than alternating current (AC) electrical power lines, a few phone lines, and a few TV cables. Times have changed, and we've come a long way, baby.
In the past, low voltage communication cabling was installed for a wide range of smart home systems. Of course, new technology still, for the most part, requires connection to the same AC power lines; but several unique and highly specific requirements must also be met to meet the demand for smart homes and new, innovative technology.
Although most home automation enthusiasts install home automation in existing homes, many new construction homes are wired for home automation. A little pre-planning during a new home construction can save you a lot of extra work down the road.
One of the first things to have your electrical contractor do is run neutral wires to all junction boxes. Although most electricians do this as a matter of professional practice, making your preference known ensures you will always have a neutral wire available. Neutral wires are required for most powerline home automation devices.
Next, request deep junction boxes. Deeper junction boxes will give you more room to work, accommodate deeper in-wall devices, and in general make your life a lot easier.
Also, have your electrical contractor install (and wire) extra junctions boxes. If you don't have a use for them at first, simply cover them with a faceplate. It is a lot easier to install extra junction boxes during the construction phase than it is coming back later and doing it.
Install cable conduits everywhere you even could remotely anticipate a need for wires (of any kind). Cable conduits are separate from electrical conduit and are used to run speaker wire, video cable, network cable, etc. Install conduits in walls even if you don't anticipate using them right away.
Again, it's a lot easier to install a piece of the conduit during construction than it is to fish speaker wire through a wall after the house is built.
Wiring Closets
Build a small, centrally located closet for storing patch panels, distribution panels, media servers, etc. Be sure your wiring closet is big enough to accommodate a rack with extra room for moving around. Make sure you install ample cable conduits in this room because much of your wiring will terminate here.
Speakers
Even if you aren't installing a whole house audio system initially, you should plan for it in the future and wire every room for in-ceiling or in-wall speakers. Trust us, at some point in the future; you're going to want to add whole house audio to your home.
Terminate your conduits into junction boxes, cover with faceplates and forget about them until you need them. Install at least one conduit and junction box at eye level in each room to accommodate a touch panel.
[Source]