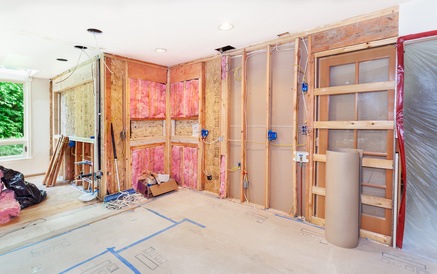 At first, it may seem hard to believe. After all these years, the kids are finally out on their own; the college tuition bills are paid, and the house is finally quiet. For many "empty nesters," this is the first chance to think about yourown desires since you started your family. Now, with an extra bedroom or two and a little extra money, your house can transform into the home you've always wanted. Here are a few home remodeling ideas for empty nesters, to make use of new-found space and increase the resale value of your home.
Create a Guest Suite There's no strict definition of an in-law suite, but it's a private living area within a house. Most experts say it should have a private full bathroom and a door that separates it from the rest of the home. Some suggest that, if possible, it should also have a separate entrance and kitchen, especially if the living situation will be long-term.
Have your home assessed to determine the best possible space for the guest suite? Some ideas include transforming one room into two, enclosing a garage or porch area or adding an addition.
Create a Hobby Room organizing systems, including peg boards and pull out drawers create a fun place to hang ribbon rolls and store gift wrap bags and ready-made bows. Drawer organizers typically used for jewelry or makeup make a handy place to store gift tags. You can get creative or carried away.
A Place to Play Another trend has a space to set up the card table. More and more baby boomers are playing games like mah-jongg, bunco, Uno, and poker. Without the kids at home, they have more time to host card parties and want a room to play. All you have to do is clear out the bedroom furniture and put in a round table and club chairs, shelving or cabinets, and wooden floors, experts suggest.
Kitchen Remodel Kitchen Remodels make up about 60% of most empty nester projects. Many times these kitchen remodels include taking down walls or adding space to the house. Cabinetry is usually important, and so are the details that go into the kitchen project. Most empty nester kitchens tend towards the middle to higher end of budgets. Often professional level appliances, LED lighting, and solid surface countertops are a must.