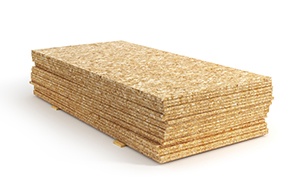 A common question in our industry is "What are the differences between plywood and oriented strand board (OSB) and how do the two stack up to one another?"
Here, we will outline a few of the differences and give you a general comparison of the two:
Plywood
Plywood is made by cutting ultra thin layers of a tree all the way around the tree's circumference. The boards are then laminated together with a hot press. The first piece is placed to roll "up," then each subsequent layer is laid 90 degrees to the one beneath it, and upside-down. The result is a natural tendency for the boards to warp as each board is pressed against the other layers. Thicker plywood (⅝" and above - made from five or more plies) is much less likely to warp than thinner plywood (¼" or â…œ").
Layers of plywood derived from an area closer to the center of the tree will always have a tendency to warp which can easily be overcome by using the correct fasteners when securing the plywood to joists or studs.
The laminate that forms the plywood will diminish over time if exposed to water. It is crucial to avoid over-exposure to water during construction as to avoid damaging or ruining the plywood. Water and plywood do not mix well - if left in a damp or wet environment, plywood will rot and have to be replaced.
Oriented Strand Board (OSB)
Oriented Strand Board is made by using glue and wax in a hot press to press smaller strands of wood together. It looks much like a collage of various wood chips. Unlike it's counterpart, OSB lacks the effect of the forces that tend to warp the wood, so it is easier to achieve perfect dimensions.
The one major disadvantage of Oriented Strand Board is the propensity it has to expand with moisture. The edges of OSB dramatically expand when wet. If the moisture remains in the OSB for some time, it may never return to its original dimensions. The effects of water on Oriented Strand Board are far worse than those on plywood, although in both cases the avoidance of water and moisture exposure should be avoided.